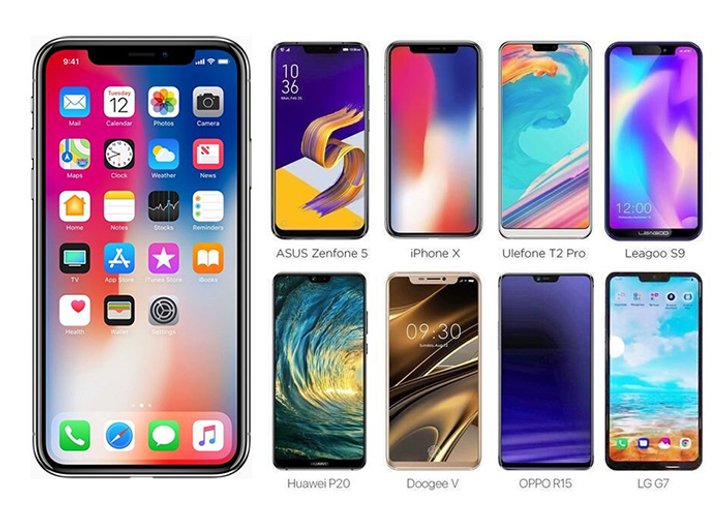 Today there is an unbelievable phenomenon for fans or Android users after Xiaomi, the company that teased Apple about the iPhone 12 "not free adapter charger", that Xiaomi has it all. Don't worry, it turns out that Lei. Jun, Xiaomi's CEO has announced that the Xiaomi Mi 11 will not include a charging adapter either.
Or Apple will lead the trend (Something strange) of the real smartphone industry?
Notch and vertical camera
When it comes to the real notch, the first brand to come to the fore was the Essential Phone PH-1, but it wasn't very popular. Until now, it has disappeared from the market, but when Apple released the iPhone X with a new design, borderless, but with a large notch, brands began to make some notches, only Samsung chose to leave the top edge. And below So far there is an ad teased the iPhone about the notch. But even so, there are many smartphone manufacturers that use similar designs.
The vertical camera is another design that more Android manufacturers have turned to after Apple applied this design to the iPhone X.
Example of an Android smartphone with a vertical camera
Goodbye, headphone jack
In addition to having a notch and a vertical camera In the same year, Apple decided to remove the headphone jack from the iPhone, starting with the iPhone 8 and iPhone X series, and then never having a headphone jack ever again. Usually, Samsung has also posted ad clips to tease Apple about the headphone jack as well. But the clip has been removed, and we can see that Android smartphone makers are now hardly wearing a 3.5 mm headphone jack in their flagship smartphones. In order to push to use more True Wireless headphones too.
The adapter is not free!
It's what Apple peak this year is not including the adapter with the iPhone 12. But actually, not just the iPhone 12 only. The old iPhone models that are being released, such as the iPhone 11, iPhone XR have been removed the adapter (Including headphones) went out as well Create a lot of buzz. Until competing brands come out to splat together, however, Samsung has removed the above post. As you can imagine, Samsung will likely not include an adapter in the Galaxy S21 as well, and Xiaomi CEO Lei Jun has officially told the popular Chinese social media Weibo that the Xiaomi Mi 11 won't. The adapter was also included in the box for environmental reasons.
Although Apple is launching a product with something strange that I do not think anyone will do. But there are also people following
Follow the news here :
ดาวน์โหลดjoker